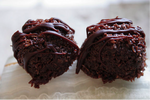 INGREDIENTS
2 cups dried sweetened flaked coconut
3 tablespoons granulated sugar
1 large egg white
Pinch of coarse salt
2 tsp Bickford Raspberry Flavor
6 ounces semisweet chocolate, chopped
2 teaspoons Bickford Coconut Oil
Edible gold leaf, toasted coconut, and sanding sugar, for garnish
DIRECTIONS
Preheat oven to 350 degrees. Combine coconut, granulated sugar, egg white, and saltin a food processor and pulse until combined, scraping down sides of bowl, if necessary. Add raspberry flavor and pulse until just incorporated. (Do not overprocess.)
Scoop mounds of coconut mixture 1 inch apart onto a parchment-lined baking sheet, using a 1/2-ounce (1 1/4-inch) ice cream scoop or a tablespoon to form small mounds.
Bake until macaroons are lightly golden, 28 to 30 minutes, rotating baking sheet halfway through. Transfer macaroons to a wirerack and let cool.
Place chocolate in a bowl set over a saucepan of simmering water and stir until melted. Add coconut oil, stirring until combined, then remove from heat.
Dip bottoms of macaroons in chocolate or completely cover with chocolate, transferring as dipped to a wax-paper-lined rimmed baking sheet. Garnish as desired while still warm, then refrigerate until firm, at least 30 minutes and up to 1 day. Serve chilled.