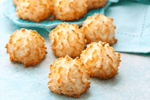 INGREDIENTS
Butter and flour for preparing baking sheet and foil
1 large egg white
1 tablespoon sugar
1/4 teaspoon Bickford Pure Vanilla Flavor
1/8 teaspoon Bickford Almond Flavor
3/4 cup sweetened flaked coconut
PREPARATION
Put oven rack in middle position and preheat oven to 300°F. Butter a baking sheet, then line with foil and lightly butter and flour foil, knocking off excess flour.
Stir together egg white, sugar, vanilla flavor, almond flavor, and a pinch of salt until combined, then stir in coconut. Divide coconut mixture into fourths, then drop in 4 mounds (about 2 inches apart) onto baking sheet.
Bake until tops are pale golden in spots, 15 to 20 minutes, then carefully lift foil with cookies from baking sheet and transfer to a rack to cool completely, about 15 minutes. Peel macaroons from foil.