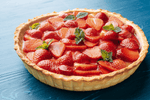 INGREDIENTS
3 large egg whites
2 teaspoons finely grated lemon zest
2 teaspoons Bickford Lemon Flavor
1 cup confectioners' sugar
1 teaspoon Bickford Almond Flavor
Vegetable-oil cooking spray
1 1/2 pints strawberries (about 6 cups), hulls on
1 tablespoon granulated sugar
1 tablespoon kirsch
3 tablespoons strawberry jam
DIRECTIONS
Preheat oven to 325 degrees. Put egg whites into the bowl of an electric mixerfitted with the whisk attachment. Beat on medium speed until soft peaks form. Beat in lemon zest. Gradually add confectioners' sugar, beating until whites are glossy and hold a ribbon on surface, 6 to 7 minutes. Add almond flavor.
Coat the inside of an 8 3/4-inch flan ring with cooking spray, and place on a baking sheet lined with parchment paper. Spoon batter into mold, and smooth top. Let stand 10 minutes. Place cake in oven; prop door open about 1/2 inch using a wooden spoon. Bake 10 minutes. Reduce oven to 300 degrees, and close door completely. Bake until pale golden and set, about 25 minutes. Unmold, and let cool completely on a wire rack.
Halve 8 to 10 strawberries lengthwise; set aside. Hull remaining strawberries, and cut each lengthwise into 4 slices. Toss slices with granulated sugar, kirsch, and lemon flavor in a medium bowl; let stand at least 30 minutes (up to 2 hours), stirring occasionally.
Heat jam in a small saucepan until thin. Brush over top of galette. Arrange reserved strawberry halves around edge, with hulls facing out. Working inward, arrange sliced strawberries in a circular pattern, with bottoms facing out, reserving smallest slices for center. Drizzle liquid from strawberries over top. Serve immediately, or let stand up to 2 hours to allow juices to soak into cake.