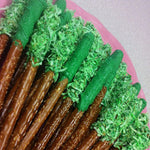 A perfect treat to send to school for classmates or to treat your little leprechauns at home!

Ingredients:
Bag of pretzel rods
Bag of dark green Candy Melts
Bickford flavor of choice (suggested: Butter Mint, Malted Milk, Mint, Peanut Butter, Toffee)
Sprinkles or other toppings (green sugar sprinkles, edible glitter, toasted coconut, nuts, etc)
Instructions:
Line a cookie tray or your counter top with waxed paper for cooling the pretzels after dipping.
Set up a plate or bowl to catch sprinkles/toppings as you apply them.
Place the bag of green candy melts into a deep bowl and microwave according to the package instructions. Usually this involves microwaving for 1 minute and then stirring every additional 30 seconds until completely melted.)
Stir in desired amount of Bickford flavor, to taste.
Hold a pretzel rod over the bowl of candy melts angled down. Start spooning green candy over the end of the pretzel rod, covering as much of the pretzel as you like.
Allow excess candy to drip off with gentle shakes. Move pretzel to sprinkle bowl and add toppings or sprinkles, as desired.
Place pretzel rod on the wax paper to dry.
Photo by Cooking Cinderella on Flickr: https://www.flickr.com/photos/81884868@N07/8545388625