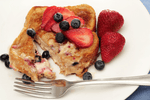 For this recipe, you'll be making one recipe of Bickford Cinnamon French Toast and preparing the following filling and topping.
Ingredients:
*1 TBSP corn starch
*1/4 cup sugar
*1/4 cup water
*1 cup fresh berries of choice (you can use whole blueberries, raspberries, blackberries, and/or sliced strawberries)
pinch of nutmeg
*3 TBSP powdered sugar
*4 oz cream cheese (room temperature)
Directions:
While preparing French Toast, add corn starch, sugar, water, berries, and nutmeg to a saucepan and mix well.
Over medium-high heat and stirring frequently, bring mixture to a boil and then immediately turn heat down to med-low. Add Bickford Mixed Berry Flavor. Stir frequently.
In a small bowl, mix all filling ingredients until completely smooth.
For each serving, place one slice of French toast on the plate. Add a dollop of filling and spread over toast. Place another slice of toast on top. Spoon topping over the French toast and serve.