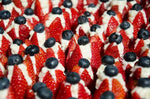 Ingredients:
Approximately 40 average size strawberries
Blueberries
1 small package (4 servings) Instant Vanilla Pudding
1 Cup Whipping Cream
1 Cup Milk
1/2-1 tsp Bickford Flavors Almond Flavoring
Directions:
Hull strawberries and then starting at the small end of the strawberry cut first one way then turn strawberry and cut the opposite way approximately three quarters of the way down. Set on a plate, and gently pull the
strawberries open a little bit.

Filling:
In bowl whip cream until stiff peaks form. While whipping, in another bowl, whisk the pudding into the milk. Add Bickford Flavors Almond into the pudding, then fold into the whipped cream until it is completely combined.
Fill storage bag and snip one corner of bag, pipe into strawberries and top with a blueberry.
Image Source (Flickr)