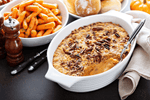 No, it may not be Thanksgiving or Christmas morning, but this sweet potato casserole with coconut is calling your name.

Perfect anytime of year (and especially perfect on crisp evenings), view this easy sweet potato casserole recipe:

Sweet Potato Casserole with Coconut Recipe
Ingredients:
Directions:
Heat oven to 350 degrees.  Place sweet potatoes in greased 13x9-inch baking dish  and top with apples.  Mix butter,  salt, Bickford Coconut Flavor and Bickford Apple Flavor, Bickford Maple Flavor and pour over apples.  Sprinkle with flaked coconut, cover and bake 30 minutes.  Uncover, bake 20 to 30 minutes or until apples are tender and coconut is lightly browned.