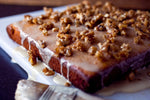 Ingredients:
1 stick unsalted butter, softened, plus more for greasing pan

1 1/2 cups flour, plus more for dusting pan

1 1/2 teaspoons baking powder

1/2 teaspoon salt

1/2 cup milk

3 tablespoons Bickford Flavors Pomegranate Flavor, plus 1 teaspoon

3/4 cup granulated sugar, plus 4 teaspoons

3 large eggs

1 cup confectioners' sugar

6 tablespoons light cream

3/4 cup roughly chopped walnuts or pecans.
Directions:
Heat oven to 350 degrees. Butter a 9-inch-square baking pan, dust lightly with flour and knock out excess. Sift together 1 1/2 cups flour, baking powder and salt. In a separate bowl, combine milk and 2 tablespoons pomegranate flavor. In a large bowl, cream together stick of butter and 3/4 cup granulated sugar with an electric mixer until light and fluffy. Add eggs one at a time, beating after each until well combined. Add flour mixture in 3 batches, alternating with milk mixture. Pour batter into pan and bake until top is golden brown and a toothpick inserted into the center comes out clean, about 35 to 40 minutes. Cool for 10 minutes, then run a knife around the edges, turn cake out onto a rack, and then turn right side up again. Whisk together confectioners' sugar, cream, and 1 tablespoon pomegranate flavor. Brush glaze over cake, letting it drip down sides. In a small, preferably nonstick skillet over medium-high heat, combine nuts, 1 teaspoon pomegranate flavor and 4 teaspoons sugar. Stir constantly and watch carefully until sugar melts and coats nuts, about 2 minutes. Sprinkle over top of cake.