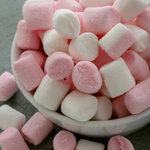 Ingredients:
4 tbs. butter, softened 

3 tbs. sweetened condensed milk 

4 cups Powdered Sugar 

2 drops red/pick food coloring or color of choice 

granulated sugar 

Rubber Candy Molds 
Directions:
Blend softened butter and condensed milk together. Gradually add powdered sugar until mixture becomes stiff.  Add flavoring and coloring a little at a time to reach desired color and taste.  Roll into small balls. Roll balls into granulated sugar. Press ball into candy mold. Unmold at once.  Place between layers of waxed paper in an airtight container. 
Makes:90 Candies