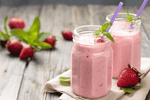 Ingredients: 
½ pint fresh strawberries

2 large bananas

1 ¼ cup soyagen powder

1 cup cool water

½ to ¾ cup maple syrup

2 tsp Bickford Strawberry Flavor

1 tsp Bickford Pure Vanilla Flavor

2 tsp Bickford Lemon Flavor

2 cups crushed ice
Directions:
Remove stems from strawberries and rinse.  Chop strawberries and bananas into medium chunks, place on separate pieces of wax paper and freeze. Add soyagen powder, water and flavors to blender and set on "stir".  Remove fruit from freezer and add to mixture. Add ice and set speed on "puree" until smooth.