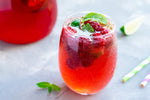 Are you ready to talk fresh, new, and inspiring?
While most consumers are still navigating their way out of the holi-daze, your business is always a few seasons ahead – planning, innovating, manufacturing, creating – and it's time to think spring.
Once that first sweep of warm wind blows through, restaurants and breweries will be opening their patios, cafes their sidewalk seating, and grocery stores and markets will be pushing beverages that align with the season and help consumers indulge in a renewed refreshment.
Early Beverage Trend Predictions for 2020
As flavor chemists, experts, and enthusiasts, our innovative spirit here at Bickford Flavors remains fixated on the flavor profile of the upcoming season and – above all – how we can help our partners move beyond the expected and construct a beverage(s) that celebrates the time of year in an unmatched way.
Consumers Want Healthier Beverage Options
As we've been experiencing for a few years now, the health and wellness trend is here to stay and seemingly grows a little stronger each year. In 2020, consumers are seeking healthier menu options and will be more mindful about what they place in their shopping carts – and beverages are certainly apart of these conscious efforts.
Consumers are more aware of what they're drinking and are remaining steadfast in their pursuit to only consume drinks that are lower-calorie, have no sugar added, are made with naturally sourced ingredients and extracts, and – more than anything – deliver authentic, unique flavors.
What do these healthier, consumer-driven guidelines mean for you? It's an opportunity to give consumers beverages with premium flavors and ingredients that also provide functional health benefits.
Consumers Will Have a Growing Taste for Fresh Fruit Drinks Come Spring
Spring menus are a few short months away – whether from a restaurant or a hostess-with-the-moistest-Mom – and consumers will be ready to shed their winter mugs and steamy sips for lighter, more refreshing beverages that center around sweet fruits.
As temperatures begin to unthaw, blackberry, raspberry, peach and pomegranate-flavored beverages offered in almost any type – such as alcoholic, non-alcoholic, carbonated, iced teas, smoothies, etc. – and with your innovative twist have great potential to quench your consumers' thirst and give them a new, exciting taste of the season.
Our Favorite Flavor Extracts for Beverages
We're big fans of the juicy aromas and vibrant flavors that fresh fruits supply, which is why we're excited to talk about these spring-inspired natural drink flavorings. 
Watermelon & Mojito
Nothing says spring like the flavor of fresh watermelon. The cool burst of sweetness enhances any beverage idea and inherently brings a smile to everyone's face – reminding them of the beauty of summer experiences to come.

Now, imagine combining that crowd pleaser with the kick of mojito and you really have something special. The hints of fresh mint and lime provide a tart tang to any of your beverage creations, taking a spring staple and stepping it up a notch.

Shop our watermelon flavoring.
Raspberry & Blueberry
Combining the natural tartness of raspberry with the sweet succulence of blueberry is simply a match made in heaven. The flavor blend takes your beverage ideas and enhances them to a level that will leave people coming back for more.

With both flavor options providing the fresh pop of recently harvested berries, this combo elevates your spring drink ideas beyond the competition and reminds people why flavor combinations are such a terrific concept.

Wild Berry
Like the mountains in which this flavor originated, the wild berry extract is a taste sensation that impresses even the harshest critic. The sweet notes and fragrant undertones amplify your beverage ideas, taking average concepts and making them extraordinary.

No matter which drink concoction you are creating, the wild berry flavor extract is sure to intensify the concept and expand the palate of everyone who tastes each delicate note of flavor.
Shop our wild berry flavoring.
Mixed Berry
Who says you can't improve on greatness? This mixed berry flavor extract takes the beautiful notes of fresh strawberries, tart raspberries, sweet blueberries, and succulent blackberries, and combines them to create an entirely new taste experience.

This unique flavor profile is an amazing way to enhance any spring beverage, providing a level of both tartness and sweetness that will undoubtedly tantalize taste buds.

Shop our mixed berry flavoring.
Lemon & Raspberry
When making the perfect spring beverage, it is important to incorporate the quintessential flavors that typify the season.

The alluring citrus notes in our lemon extract combined with the tart freshness of raspberry captures the creativity of your beverage creation and enables it to embody the soul of springtime.

Since it is important to always achieve balance when combining flavors, this extract blend accomplishes just that.

Shop our lemon flavoring.
Shop our raspberry flavoring.

Banana & Strawberry
Certain flavor combinations are as classic as they come. Our banana and strawberry extracts take the smooth richness of banana and combine it with the fresh burst of strawberry to create a flavor blend for the ages.

Whether you're creating smoothies, daiquiris, or a tasty mocktail, this flavor combination is sure to take your springtime drink and add a level of freshness that truly captures the seasonal vibe.

Shop our banana flavoring.
Shop our strawberry flavoring.

Coconut & Lime
When spring is in the air, everyone is dreaming of the warm summer months right around the corner. What better way to celebrate than with a tasty beverage that includes the smooth nuances of coconut and the tart kick of lime?

This flavor combination blends together like a dream, creating a flavor sensation that reminds you of the islands even when you're thousands of miles away at home. After all, if you can't be in the tropics, you might as well bask in the sweet deliciousness that only coconut and lime can provide.

Shop our coconut flavoring.
Shop our lime flavoring.
Vanilla Flavored Beer
If you're looking for a way to be unpredictable, begin by brewing a vanilla beer. While vanilla drafts, ales and lagers are gaining some steam, you can easily create a vanilla beer that delivers its own, unexpected – but oh-so welcomed – notes of, say, chocolate, espresso, dark fruits, orange hops, hazelnut, and our list could go on.
In fact, if you've got an idea for a vanilla beer, we'd love to talk through it with you. As your partner in flavor extracts for beverages, that's what we're here for: to help you develop an exceptional beverage that will make substantial waves in the market and leave a lasting impression with consumers.
Our pure vanilla flavoring is available in a water-soluble flavor.
What other flavor extracts would complete your beer application? We've got over 100 flavor extracts to choose from and custom flavors ready to be made.
Dark Coffee
There are coffee drinkers, and then there are year-round coffee lovers. For the customers that crave a cup-o-joe even as the weather warms up, or for those who love coffee-flavored drinks – like iced coffees, smoothies, coffee liquor cocktails, and more – our dark coffee flavoring delivers an unmistakable, rich taste of the Arabica coffee bean.
After a dark, cold and mostly gloomy winter, coffee lovers will be looking for a new twist on their old faithful.
Our dark coffee flavoring is available in both a water-soluble flavor and a water-soluble hard oil.
Blackberry
The blackberry isn't talked about as often as other fruits when it comes to beverages, but for the small number of beverage recipes that call for this tart, unique fruit, it's always a crowd pleaser.
From blackberry mojitos to blackberry lemonade and everything in between, add unexpected layers of indulgence to your beverage application with our all-natural, mouth-watering blackberry flavor extract.
Our blackberry flavoring is available in both a water-soluble flavor and a water-soluble hard oil.
Raspberry
With its bright and juicy profile that delivers a hint of tartness, raspberry flavoring imparts freshness into any beverage application. In addition to its sweet, delicate taste and pleasant aroma, our natural raspberry flavoring is extremely versatile and mixes well with an abundance of other flavors.
With fresh fruit drinks coming in high-demand this spring, consumers will want a stand-out, berry-flavored drink. Your application can be their toast to spring.
Our raspberry flavoring is available in both a water-soluble flavor and a water-soluble hard oil.
Peach
When done right, a crisp beverage that is drenched in a ripe, juicy peach flavor is the loose definition of a quintessential spring (or summer) fruit drink; and, when it leaves a sweet after taste, you know you've just created a signature application.
Our naturally sourced peach flavor extract for beverages will bring a complex sweetness and unmatched flavor to your drink application.
Our peach flavoring is available in both a water-soluble flavor and a water-soluble hard oil.
Pomegranate
Pomegranate is a versatile flavor that packs a powerful punch. Depending on your desired flavor concentration, our pomegranate extract can create an aromatic, distinct flavor.
With sweet and tart notes, this flavor can make any beverage application a bit more interesting and incredibly invigorating.
Our pomegranate flavoring is available in both a water-soluble flavor and a water-soluble hard oil.
Custom Wholesale Flavor Extracts for Beverages
Thinking of a completely original flavor for your beverage application? This is one of our favorite conversations to have.
For our partners who range from home brewers to wholesalers, manufacturers, retailers, distributors, food service and caterers, and more, we create custom flavor extracts for beverages with one-of-a-kind tastes and aromas.
Just like our extensive line of natural drink flavorings, our custom flavor extracts for beverages are formulated to meet current market demands and your specific labeling needs – such as certified kosher, no sugar added, low-calorie, low-protein, low-carbohydrate, gluten-free, and more.
Want to learn about partnering with Bickford Flavors to create your custom beverage flavor(s)? Find everything you need to know here:
Custom Flavorings and Extracts Wholesale Program
Discover Bickford Flavors' Natural Drink Flavoring Wholesale Program
At-home brewers to large, commercial beverage manufacturers depend on Bickford Flavors for some of their best-selling products.
All-natural, certified Kosher, and backed by our very own 100-year-old formulas, we formulate our flavor extracts for beverages to be stronger and more versatile than other flavoring methods – giving your product the exact flavor consistency it needs.
When you partner with Bickford and become a part of our wholesale program, you benefit from preferred pricing, no minimum order requirement after one gallon, and faster than normal turnaround times.
We work hard to support you, your growing business, and your ever-expanding product line with premium flavors.
To get started, download our wholesale business verification form or ask about our sample program.
Download Wholesale Business Verification Form
Have questions? Contact us today or call 440-494-7777. Toll free at 800-283- 8322.