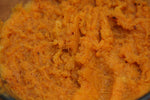 So many of our fans are looking for ways to incorporate their favorite flavors into food without adding allergens or common irritants. Since it's November and we're gearing up for Thanksgiving, here's an allergy-friendly twist on sweet potato casserole. We hope you enjoy it!
Ingredients:
4 medium sweet potatoes, peeled and quartered
½ cup butter, butter substitute, or coconut oil
½–1 cup milk (or milk substitute like coconut milk, cashew milk, etc.)
1/4 cup honey
1 tsp. vanilla
1-2 tsp. Bickford Burnt Sugar flavor

Instructions:
In a large stock pot filled with water, boil the sweet potatoes over high heat, and continue boiling until fork tender—about 10 minutes. Drain sweet potatoes in a colander.
While potatoes are draining, return pot to burner. With pan over med-low heat, add butter, 1/2 cup milk, and honey and whisk until combined. Add vanilla and 1 tsp. Bickford Burnt Sugar flavor.  Whisk to combine.
Add potatoes to pot. Mash to desired consistency. Add additional milk or Bickford Burnt Sugar flavor to taste.