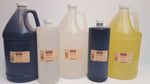 Seemingly overnight, the flow of your business and supply chain was severely thrown off course. Whether you're now mostly serving take-out orders, producing in excess to meet a new wave of demand, or simply trying to remain steadfast at where you were before health and safety restrictions were put in place, we understand where you're at.

As an essential business during COVID-19, we know there has been a lot of change and demand placed on your shoulders in a short amount of time.

We want to help you move your products and business forward during this time.
Serving All Industries & Producers as a Natural Food Flavoring Supplier
We're proud to partner with chefs, restaurants, caterers, gourmet retailers, wholesalers, manufacturers, distributors, brewers, at-home makers, and beyond.

Our flavorings and extracts are always certified Kosher, all-natural, and derived straight from the source.

We are a team of flavor chemists and food and drink enthusiasts, so we know how vital good flavor is to any product. As our partner, we will work hard to ensure your products have never tasted better.
Why Join Our Wholesale Flavoring Program?
Even during these uncertain times, we are committed to serving our customers and getting them the flavors and extracts they need to produce their products.

Every wholesale partner benefits from:
Preferred pricing
No minimum order sizes
Complimentary samples
Same business day shipment if placed before 12:00 pm (noon) EST
We also offer our premium flavors and extracts in a variety of sizes, including: 
16 fl. oz.
32 fl. oz.
1 gallon
5-gallon pail
55-gallon drum
With Bickford's wholesale program, you have the ability to create an order size that fits your needs.
Let Us Be Your Partner of Superior Taste and Convenience for Your End Products
While the world may be changing at a rapid pace and feel as if it's upside down, you still have consumers who are counting on you for food and nourishment. With Bickford Flavors, you can deliver during these unsettling times and continue to never sacrifice flavor.

During COVID-19, we will remain open and shipping. Should any food or beverage flavoring need arise, we'll work side-by-side with you to understand your needs and deliver our long-standing, successful flavors for the products you produce and continue to bring to the market.
Learn More About Our Wholesale Program
Are you a manufacturer, distributor, wholesaler, chef, at-home maker or any other type of food service professional or producer? You can find more information about our program, as it pertains to your specific needs, on our wholesale program page:
If you're ready to become a wholesale customer, download and complete our Wholesale Business Verification Form. Then fill out the form at the bottom of the page and upload the completed Business Verification along with a copy of your business license.

We will get through this together, and we will continue to make food and drink taste incredible along the way.

Contact us with any questions you may have:
orders@bickfordflavors.com