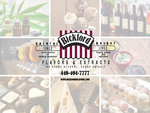 During these unprecedented times, we understand that your entire flow of business may be completely disjointed. We also understand that, despite the disarray, your customers are still counting on you for exceptional food and beverage products.

Now, perhaps more than ever, your customers and consumers are turning to their favorite foods – your products – to infuse some comfort and normalcy into their day.

While certain things in life simply can't be controlled, we're here to remind you that we'll get through this and we're here to assist you in any way we can with your food and drink flavoring needs.

As a natural food flavoring supplier, we care deeply about our partners' businesses. We work exceptionally hard to support our customers, their growing businesses, and their ever-expanding product line with premium flavors.
Our Commitment to High-Quality, Naturally Sourced Flavors
Giving life to food and beverage through exceptional flavors has long since been rooted in our DNA at Bickford. From over 100 years of formulating flavorings and extracts, we know one thing to be absolutely certain: flavorings and extracts are only as good as the sources from which they are derived.

Our unrelenting pursuit of using the highest quality ingredients for our flavorings and extracts is what truly sets us apart in the world of food flavoring.

We are committed to creating all-natural flavorings that are always certified Kosher and free of any added sugar, salt, or synthetic derivatives.

Making the choice to provide your customers with a product that is flavored from this standard ensures that they will continue to return because quality is never overlooked.
COVID-19: We're Open & Ready to Meet Your Flavoring Needs
The current state of affairs around the world have left us all feeling a bit unsettled.

Making the effort to protect our families and our customers is essential at this time.

While there are sure to be disruptions in access to some services and suppliers, Bickford has made the commitment to our partners – new and current – to remain open so they can continue to provide their customers and consumers with the products they love and are undoubtedly counting on right now.

We're here so you can continue supplying customers with your full-flavored food and beverage products.
Get to Know Bickford: We Formulate Premium Flavors at Wholesale Quantities & Prices
At Bickford, we believe that good food and drink is not simply meant to sustain, but it is also intended to feed the soul and nourish the mind. In times like these, your products can help so many individuals eat well and continue to enjoy life.

From large, well-known food and drink manufacturers and chefs to small businesses and at-home makers, they all depend on Bickford Flavors for some of their best-selling goods.

All-natural, certified Kosher, and backed by our very own 100-year-old formulas, we formulate our flavors and oils to be stronger and more versatile than other flavoring methods – giving your product the exact flavor consistency it needs.

Our flavorings and extracts meet current market demands and your specific labeling needs – such as certified kosher, no sugar added, low-calorie, low-protein, low-carbohydrate, gluten-free, and more.
Our wholesale program delivers:
Preferred pricing
No minimum order requirement after one gallon
Faster than normal turnaround times

even during COVID-19

– with same day shipping available, depending on the time the order was placed
Need a Custom Flavor?
In addition to our extensive line of natural food and drink flavorings, we create custom flavor extracts for food and drink with one-of-a-kind tastes and aromas.

Learn more about partnering with Bickford Flavors to create your custom flavor(s):