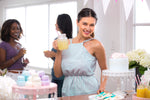 Any time is a good time to mix up a tasty mocktail. From holidays to birthdays, winter festivities to summer soiree's, introducing your customers or family and friends to the magic of a perfectly mixed mocktail can tantalize their taste buds and help them truly enjoy a new, refreshing taste sensation.

Whatever event you are preparing for or new season offerings you want to serve, bring a few select mocktails to the table.

After all, just because a mocktail is alcohol-free doesn't mean it has to be a lackluster experience. With the right ingredients and – most of all – with the right flavorings, your next mocktail could wind up being the talk of the town or the toast of the party.
Sophisticated Mocktails for Special Occasions
Baby Showers
Whether celebrating the arrival of a beautiful baby girl or bouncing baby boy, marking the occasion with a Preggie Provençe is sure to wow your guests.

Combining Bickford's delicate lavender flavoring with grapes, lemonade, sparkling soda, and fresh rosemary will refresh everyone in attendance.

Shop our lavender flavoring.

New Year's with Kids
Spice up the new year with a Blueberry Ginger Cooler. Mixing Bickford's lemon lime flavoring with fresh blueberries, grated ginger, and sugar will kick up your bash with a mocktail that'll keep the kiddies coming back for seconds.

Shop our lemon lime flavoring.

Bridal Shower
What better way to entertain your bridal shower than with a delectable margarita to satisfy their thirst? The Mango Meyer Lemon Margarita Mocktail combines fresh mango puree, Bickford's Meyer lemon flavoring, simple syrup, and sparkling water to impress all your guests.

Show our Meyer lemon flavoring.

Birthday Gatherings
Get ready to dance the day away when you serve your guests a Beach Blanket Bingo at your next birthday celebration. Combining fresh grapefruit juice, Bickford's cranberry flavoring, and soda water, this simple and sophisticated mocktail is exactly what your next birthday bash needs.

Shop our cranberry flavoring.

Family-Friendly Holidays
Take any holiday and kick it up a notch with this refreshing beverage that will impress all your family members: Mix fresh strawberries, honey, orange juice, water, and Bickford's ginger flavoring. The best part? You get to think of a clever name for this mocktail.

Shop our ginger flavoring.

Teetotaler Celebrations
Satisfying a group of guests who only drink mocktails is no small feat. That's why keeping it simple with the highest quality ingredients and flavorings is key. A Mango Mule combines fresh cucumbers, mango puree, Bickford's honey flavoring, fresh lime juice, and ginger beer to create a beverage that satisfies the pickiest of teetotalers.

Shop our honey flavoring.


Sophisticated Mocktails for the Changing Seasons
Winter
When thinking of sophisticated mocktails to serve in those long winter months, the Winter Shandy immediately comes to mind.

This cold weather mocktail takes non-alcoholic beer and combines it with Spice 94, Bickford's apricot flavoring, fresh lemon juice, and sugar syrup to warm your bones and remind you why the winter months seem so magical.

Shop our apricot flavoring.

Spring
Those first spring days are invigorating and exciting, allowing you to shake off the shell of winter hibernation and begin planning for the warmer months ahead.

Including a mocktail like Strawberry Fields at your next spring party is the perfect way to remind your guests that spring is most definitely in the air.

Mixing hibiscus syrup, Bickford's strawberry flavoring, and soda water is a simply prepared and supremely satisfying start to spring.

Shop our strawberry flavoring.

Summer
Nothing reminds us more of summer than fresh lemonade. That's why a Green Lemonade mocktail is always a hit at summer parties no matter who is in attendance.

Combining lemonade, lime cordial, Bickford's kiwi flavoring, and simple syrup is a fresh way to keep your guests sipping a sweet mocktail treat all day or night long.

Shop our kiwi flavoring.

Fall
When fall sets back in, we all need something warm to keep us feeling invigorated on those chilly autumn evenings. That's why a Not Hot Toddy is the perfect mocktail to mix up.

Taking hot tea and mixing it with fresh honey, Bickford's lemon flavoring, cinnamon, cloves and nutmeg allows you to sit back, relax and breathe in the warm notes of the autumn moon.

Shop our lemon flavoring.


Why Choose Bickford Flavors for Your Mocktails?
At Bickford Flavors, we offer an extensive line of more than 200 all-natural, certified Kosher drink flavorings.

Backed by our very own 100-year-old formulas, we formulate our flavor extracts for beverages to be stronger and more versatile than other flavoring methods – giving your product the exact flavor consistency it needs.

For manufacturers and large or small scale beverage brewers and makers: Our flavor extracts are formulated to meet current market demands and your specific labeling needs – such as no sugar added, low-calorie, low-protein, low-carbohydrate, gluten-free, and more.
Need a Custom Beverage Flavoring?
In addition to our line of flavor extracts, we create custom flavor extracts for beverages with one-of-a-kind tastes and aromas. Learn more:
Need Large Quantities? We Offer a Beneficial Wholesale Program:
For our wholesale partners, their best-selling products are made while benefiting from our wholesale prices and quantities.

Our wholesale program offers:
Preferred pricing
No minimum order requirement after one gallon
Faster than normal turnaround times
We are committed to your growing business and beverage product line.

To get started, download our wholesale business verification form or ask about our sample program.
Download Wholesale Business Verification Form
Have questions? Contact us today or call 440-494-7777. Toll free at 800-283- 8322.