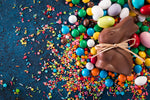 Every holiday provides a unique opportunity to not only highlight your delicious confections, but to also entice your consumer base with specialty-themed sweet treats that truly set off the holiday experience.

When it comes to Easter, crafting custom candies would make the Easter Bunny proud – and can make for good business!
All Easter Candy Contends with Strong Competition
When everyone is hoping for something sweet and tasty in their Easter basket, what's your strategy for setting yourself apart from the jam-packed store aisle of holiday sweets?

The Easter holiday invariably brings two major influences into every home: pastel colors patterns and copious amounts of candy.

While the soft color scheme can be incorporated into your confectionary designs, creating the highest quality sweets is key to staying ahead of the competition vying for a share of the market this Easter.

More so, creating confections with custom flavors can excite consumers and bring sought-after innovation to the market.
Learn About Creating Custom Flavors
As a Confection Maker or Manufacturer, the Opportunity is There this Easter Season
Adult American consumers who plan to celebrate Easter said they'd spend a combined $2.4 billion on candy, which is actually more than they spend on Halloween1
Even though not everyone celebrates Easter, 33% of those not participating in the holiday say they'll still buy candy
When it comes to sweet Easter basket treats, it's no surprise chocolate rules at 89% with fruit-flavored candy following at 46% and gum and mints accounting for 35%2
Now capitalize on this opportunity by producing confectionary creations with custom flavors.
Take Note that Not All Oil-Based Flavorings are Equal
Making the decision to incorporate the highest quality oil-based flavorings into your candy creations is a sure-fire way to set yourself apart from the crowd.

The difference between quality ingredients and flavorings and artificial additives and extracts is immediately noticeable.

Did you know: 54% of all Americans say they actively avoid artificial sweeteners, flavorings and preservatives when deciding which products to buy?3
Today's consumers, even ones with a sweet tooth for Easter candy, continue to trend toward natural products – preferring to consume products with ingredients and flavor sources they can actually pronounce.

With over 70% of consumers stating they have concerns about eating products with artificial ingredients and synthetic extracts, and the same amount agreeing that natural ingredients take precedence in their purchasing trends, making the switch to all-natural, oil-based flavorings is not just a novel concept: it's smart business.3
Your Application Deserves Custom, All-Natural Oil-Based Flavoring for Chocolates
Using high-quality, naturally sourced flavor oils can be beneficial on multiple levels.

Without question, using all-natural flavorings will amplify the overall quality and taste of your product. It will also enable you to appeal to emerging demographics and popular, health-conscious purchasing patterns.

But let's talk for a second about the day after Easter. What's the plan for your Easter candy application? With the same formula/recipe and perhaps just a different appearance, your application can remain in-demand and sold year-round.
This is especially true when you blaze your own flavor trail and create your own confection flavors.
At Bickford, our flavor experts stand second to none when it comes to carefully curating flavors – ones that are also made from high quality, all-natural flavor ingredients – that can make your application stand out and hit the highest notes among consumers.

We develop a wide-array of application-specific custom flavors for several different industries, including the confection industry, and we can create flavors for current market demands.

Learn more about partnering with us on custom flavorings and extracts and let's hit this Easter season out of the park.

Candy Flavoring Oils Wholesale Program
At Bickford, it is our mission to help you naturally improve the taste and flavor of your application and help customers come back for more.

When you partner with Bickford and become a part of our candy flavoring oils wholesale program, you receive:
Preferred pricing
No minimum order requirement after one gallon
Faster than normal turnaround times
Learn more about our wholesale and sample program or, to get started today, download our wholesale business verification form:
Download Business Verification Form
Learn more about us here:
Resources:

1 Fortune. Americans Spend More on Candy for Easter Than Halloween. Accessed February 10, 2020. https://fortune.com/2016/03/18/easter-spending-halloween/.

2 Wallet Hub. 2019 Easter Facts & Stats – Church, Candy & Cash. Accessed February 10, 2020. https://wallethub.com/blog/easter-facts/19776/.

3 Nielsen. What's in Our Food and On Our Mind. Accessed February 10, 2020. https://www.nielsen.com/wp-content/uploads/sites/3/2019/04/global-ingredient-and-out-of-home-dining-trends-aug-2016.pdf.