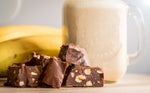 It seems as if every time you turn around there's another diet trend or health fad sweeping the nation.

From keto to gluten-free to plant-based meats, the revolving door of emerging dietary food trends can sometimes seem endless.

As a confection maker or manufacturer, you may be wondering how you can remain aligned within certain diets or lifestyles.
Remember: Sweets Can Be Part of a Balanced Diet
While staying up to date on the ever-evolving market and identifying popular trends as they emerge is essential to capturing new consumers and maintaining the needs of your current consumer base, we're here to remind you that even with the most tailored dietary programs, there's room for tasty sweets and "cheat" days.

Almost every dietary approach encourages people to enjoy life and indulge in moderation.

After all, what's the point of getting healthier in life if you can't take time to enjoy the little things: like a chocolatey indulgence or confectionary delicacy.

Still, consumers will undoubtedly be looking for confections that are of the highest quality – like ingredients and flavor sources used – to satisfy their sweet tooth.
Ongoing & Emerging Diet Trends Tend to Circle Back to a Product's Clean Label
Studies have shown that more and more people are actually reading the labels of the products they buy and looking for specific terminology to guide their purchasing trends.

Verbiage such as "extract" and "natural" heavily influence the types of products that consumers are currently buying due to the belief that they signify a "clean label."

More so, the combined term 'natural extract' is becoming the most impactful label term to consumers, as it's proving to be more compelling than just 'natural.'

Indeed, today's consumer has a high demand for:
Natural and organic ingredients
Products with naturally sourced flavors
Labels that are transparent
Taking these factors into account when producing applications can help you remain relevant within the market and emerge as a viable trend setter.
Why All-Natural Extracts and Flavors Can Help Your Products Stay in Demand Amidst Health and Wellness Trends
As you well know, consumers are seemingly all about organic and natural – even individuals who don't necessarily align with a specific diet or lifestyle trend. They care about what they consume.

Did you know that a great number of confection brands and makers – big and small – are still use artificial ingredients and flavor with synthetic oils and extracts?

Health-conscious consumers know this, and, to become an outlier and create a product that consumers reach for when they want to indulge, you must use all-natural extracts and flavors within your applications.

We also can't forget to mention that, according to the 2018 Summer Food and Drink Trends Report conducted by Mintel, Food Business News, consumers can recognize fresh, authentic flavors over imitation.

Take note: Consumers want real flavor. They also love unique and innovative flavors, too. To really solidify your application's clean label, give consumers their hard ask: include where your natural flavors are sourced from.
Keto Flavors
Creating keto-friendly sweets and treats should never mean flavor has to suffer. In fact, if you want to make a keto-aligned confection, you can make your flavors more alive and robust with all-natural extracts and flavors.

Real keto flavors are always free of any added sugar and salt and derived from the highest quality sources.
Bickford Flavors is a Natural Food Flavoring Supplier. Let's Infuse Your Confection with the Best Oils and Extracts
At Bickford, there's nothing imitation about our extracts and flavors.

We believe wholeheartedly in indulging in a sweet confection, and we also know that using natural ingredients and extracts will not only align with certain diet and lifestyle trends, but also produce an improved flavor profile.

Our all-natural extracts and flavors are certified Kosher and can be formulated to meet current market demands, specific labeling needs, and ongoing and emerging diets and lifestyles – such as low-protein, low-carb, GSA, keto, gluten-free and others.

We're exceptionally proud of our entire line of flavor oils and extracts, and we've meticulously formulated them to be stronger and more versatile than other flavoring methods available on the market today.

Learn more about our wholesale and sample program or, to get started today, download our wholesale business verification form:
Download Wholesale Business Verification Form
Need a custom flavor for your confection creation? We're experts in creating one-of-a-kind flavors.