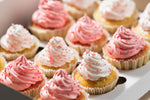 From the fluffy folds of its icing to the trendy papers used to encase it – and, of course, all the goodness in between – there's no denying we love the cupcake.
On December 15th, we celebrate National Cupcake Day!
Are you a baker or manufacturer of baking confections? In honor of this day, we invite you to learn a little more about this sweet and spongy creation and discover new ways to elevate its flavor in all-natural ways.


Did You Know? A Brief History of Cupcakes
Taking the time to better understand where the delicate cupcake originated from is truly a step back in time.

The cupcake itself dates as far back as 1796 when the first ever cupcake recipe was introduced by a woman named Amelia Simmons.
First ever cupcake recipe: A light cake to bake in small cups. Half a pound sugar and half a pound butter rubbed into two pounds flour, one glass of wine, one glass of rosewater, two glass of emptins, nutmeg, cinnamon and currants.
This early recipe was the first step away from whole cakes and an introduction into the possibilities of individual cups of cake for all to enjoy.

After Ms. Simmons blasted onto the scene with her ingenious take on cake, cupcakes continued to grow in popularity and evolve throughout the ages.

For years following the original introduction, cupcakes themselves were better known as one-two-three-four cakes because of the recipe that had gained great popularity. The recipe included one cup of butter, two cups of sugar, three cups of flour, four eggs, plus one cup of milk and one spoonful of baking soda.

While this method may seem outdated, many bakers swear by these same measurements to this day. Some other interesting facts about the history of the cupcake include:
In 1919, Hostess introduced its first snack cake known as The Cupcake
In the 1920's, cupcakes began receiving either chocolate or vanilla icing on the top when prepared
In 1947, cupcakes got a makeover by a man named D.R. "Doc" Rice, during which time he structured the tiny baked goods to resemble what we think of as a cupcake today
In the 2000's, cupcakes went mainstream with the help of shops like Magnolia Bakery in NYC
While the history of the cupcake is definitely fascinating, some other notable cupcake stats include:
29 cupcakes in 30 seconds is the record for eating cupcakes in one sitting
One cupcake is consumed for every adult in the U.S. every day
The world's largest cupcake weighed in at a whopping 1,224 lbs
Today's Most Raved About Cupcakes: What Makes Them So Sought After?
It should come as no surprise that the best cupcakes are born from true innovation and incredible flavor profiles that utilize the highest quality ingredients and naturally sourced flavor extracts.

The creation of the cupcake itself originated when a brave culinary mind decided to think outside the box and venture into uncharted territory.

While that decision proved to be iconic, the best cupcakes have stood the test of time by reinventing themselves to keep customers wowed and incorporating quality ingredients to make sure their product stands above the rest.

While high-quality flour, butter and eggs are an obvious choice, the flavor extracts you decide to use in your recipes make even more of an impact on the final product.
That's why avoiding imitation extracts, synthetic oils and run-of-the-mill flavorings is essential when constructing your next cupcake masterpiece.
Premium, true-to-source extracts that are meticulously crafted and weighed to give your cupcakes the exact flavor consistency, aroma and taste they deserve is the key to setting yourself apart in a competitive industry.

So, do yourself a favor and incorporate all-natural and high-quality flavor extracts in your next recipe.

Who knows, you may just put yourself into the history books with your delectable creations.
Are Your Cupcake Flavors Where You Want Them?
Read How Two Bakers Enhanced the Flavors in Their Cupcakes & Baked Goods by Using All-Natural Extracts
Sheril Ann's Bakery

Every baked good produced by Sheril Ann's is made from all-natural ingredients, with many sourced locally. If an ingredient can't be found naturally and locally, Sheril Ann Farmer will make it herself.

When the decision was made to alter old family recipes with enhanced, more intentional flavorings, the search was on to find premium flavors that elevated three generation old recipes and didn't compromise the bakery's high-quality, wholesome mission.

Read how Bickford Flavors helped Sheril Ann's achieve the exact flavor consistency they were looking for, remain true to their all-natural ingredient list, and – ultimately – increase their wholesale orders.
Read the full story of Bickford's partnership with Sheril Ann's Bakery.
D.S. Cakes & Sweets Café

Everything that comes out of the D.S. Cakes & Sweet Café bakery is made from scratch and never includes any artificial ingredients.

The greatest challenge for the bakery was finding good quality, all-natural flavorings for their cakes and baked goods, as the quality and price of most flavoring products and methods today left Diane – the owner of D.S. Cakes & Sweet Café – dissatisfied and continuously searching for the right flavoring product.

Read how Bickford Flavors helped D.S. Cakes & Sweet Café enrich the taste of their locally famous cakes and baked goods and remain steadfast in their pursuit to create the highest quality confections with no artificial ingredients.
Read the full story of Bickford's partnership with D.S. Cakes & Sweets Cafe.
Is It Time to Develop the Flavor Profile in Your Cupcakes? Let Bickford Flavors Lead the Way
We hope that the biggest thing that you, a small or large-batch baker or manufacturer, celebrate this National Cupcake Day is your innovation and flavoring method.
There is absolutely no substitute for premium, all-natural baking flavoring extracts.
At Bickford Flavors, we have been providing small and large makers, manufacturers, and other baking professionals a solution to naturally improve the taste and flavor of their cupcakes or other confection applications for over a century.

We formulate our flavoring extracts and oils to be stronger and more versatile than other flavoring methods on the market, and our extracts are always specially made to align with special diets and lifestyles, such as such as low-protein, low-carbohydrate, gluten-free, and more.

The best part? Our premium flavors are certified Kosher and are available at wholesale prices and benefits.

Our wholesale program delivers:
Preferred pricing
No minimum order requirement after one gallon
Faster than normal turnaround times
Want to get to know us better? We invite you to see what we're all about:
Browse All Water-Soluble Extracts
Browse All Oil-Soluble Extracts
Need a Custom Baking Flavor?
We also create custom baking flavor extracts with one-of-a-kind tastes and aromas.

Want to learn about partnering with Bickford Flavors to create your custom flavor(s)? Find everything you need to know here:
Create Custom Beverage Flavorings
Have questions? Contact us today or call 440-494-7777. Toll free at 800-283- 8322.