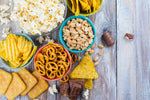 It truly is a magical flavor age we are living in.

From classics (think cheesy popcorn and BBQ chips) to the truly innovative (fried chicken and buttermilk waffle popcorn…what?!), the manner in which companies are creating new and completely unique flavors out of everyone's favorite snack classics is an amazing thing to behold.

With the availability of all-natural, high-quality flavor extracts, the potential to create a truly original and distinctive tasty treat is right within your grasp.

Understanding what taste preferences are surging and how to go about incorporating those flavor concepts into your next snack idea is essential to making your mark on the competitive snack industry.

Taking the time to formulate your ideas before putting them to production enables you to avoid unnecessary setbacks while making your journey toward snacking stardom.
You're Not Imagining It: Fan Favorite Snacks are Absorbing Iconic and Sought-After Flavors & Combinations
Everywhere you turn you see a new flavor combination. Walk down the aisle of any grocery store or market and you will encounter an array of uniquely flavored chips, popcorn and crackers.

Giants in the snack industry realized that providing their customers the typical offerings was a profitable approach, but they were missing out on the potential to dramatically expand their footprint on the snack industry.

That's when they encouraged their marketing and product development departments to think outside the box and begin approaching their products with genuinely distinctive flavor offerings.

This innovative approach to the snack industry has produced a wide variety of snack offerings, including chips flavored to taste like fried pickles with ranch, tangerine vanilla popcorn and loaded cheesy taco crackers.

With options like these (and a variety of others that have not even been mentioned) it is no wonder that the snack industry is constantly expanding and ready for the next new flavor concept to hit the shelves.
Here's How We Think the Popcorn and Snack Industries Can Capitalize on Today's New Wave of Flavor Combinations
How can you use this new-found flavor extravaganza to forge your own uniquely seasoned snack product?
To start, conducting focused market research to test new taste options and flavor ideas is an excellent place to begin.

This approach can provide exceptional insight into what customers are looking for in their munchies and just how adventurous they are willing to get in their snacking explorations.

Another beneficial approach is to encourage internal brainstorming among your product development department and even among all employees within the corporation.

Companies who have taken this approach have created internal work competitions focused on flavor recommendations with prizes being awarded to the employee who comes up with the most innovative and marketable product concept.
This type of company-based marketing approach can save substantial money and allow companies to use the brain power already functioning within their facility to find the next big snack concept.
Got an Innovative Flavor Concept for Your Popcorn or Snack Line? Be Sure Your Flavor Sources are High-Quality
Taking the time to identify an amazing new flavor combination is only half the process.

Combining that flavor with your specific snack option – be it popcorn, chip or cracker – is the other component that is essential to actually bringing your vision to life.

While there are a number of flavoring options when it comes to the product creation process, it is imperative to set yourself apart from the competition by using the highest-quality flavor extracts to achieve your flavor dreams.

Making the effort to research flavor preferences and craft a remarkably unique snack option is all for not if the flavor extract you use is subpar and lacking in superior taste quality.

Being committed to using the highest quality, all-natural flavor extracts ensures that your snack concept doesn't simply get made, but it ensures that it comes to life!
Snack and Flavored Popcorn Wholesale Program
For over a century, we've been providing large- and small-scale makers, manufacturers, retailers, distributors, and other food service professionals a solution to naturally improve the taste and flavor of any product and help their customers come back for more.

When you partner with Bickford and become a part of our flavorings and extracts wholesale program, you receive:
Preferred pricing
No minimum order requirement after one gallon
Faster than normal turnaround times
Learn more about our wholesale and sample program or, to get started today, download our wholesale business verification form:
Download Wholesale Business Verification Form
Have questions? Contact us today or call 440-494-7777. Toll free at 800-283-8322.
Our Commitment as a Natural Food Flavoring Supplier: We Want to Help Popcorn and Snack Makers & Manufacturers Create Incredible Tasting Products
At Bickford Flavors, we firmly believe that incorporating the highest quality flavor extracts into your products is an excellent way to create that incredible taste experience you desire.

Since our inception over a century ago, we've been formulating Bickford Flavors to meet current market demands and your specific lifestyle needs – such as keto-friendly, low-carbohydrate, gluten-free, certified kosher, no sugar added, low-calorie, low-protein, and more.

Suitable for almost any application and formulated to be stronger and more versatile than other flavoring methods, we invite you to get to know our flavors: